Action Plan Sub-pages: 1:Nitrogen | 2:Shellfish | 3:Stormwater & LID | 4:Smart Growth | 5:Onsite Septic | 6:Boating | 7:Wetlands | 8:Migratory Fish | 9:Endangered Species | 10:Water Budgets | 11:Invasives | 12:Open Space | 13:Freshwater | 14:Litter | 15:Watersheet | 16:Toxics | 17:Oil Pollution | 18:Shifting Shorelines | 19:Swimming Beaches | 20:Monitoring | 21:Education


November 2013 Approval Draft Final Posted
About the update of the Buzzards Bay CCMP
The Buzzards Bay NEP has updated our landmark 1991 Buzzards Bay Comprehensive Conservation and Management Plan (CCMP), to reflect the progress achieved since that plan was finalized, the many tasks still not completed, as well as new challenges. The updated plan includes new, updated, and reaffirmed goals, objectives, and management solutions to meet the environmental needs for Buzzards Bay and its surrounding watershed into the next decade. The original plan was approved by EPA in 1992.
The updated Buzzards Bay watershed management plan is meant to be a blueprint to continue to help guide municipalities and watershed partners in their ongoing efforts to protect and restore water quality and living resources in the bay and surrounding watershed. We believe the update of the Buzzards Bay CCMP is also an excellent opportunity for municipalities to advance local priorities, and to request new measures or support from the state and federal government. While the Buzzards Bay watershed plan is not a regulatory document, the contents of the updated plan will help guide state and federal grants, technical assistance, and policy changes that will affect Buzzards Bay communities for years to come. For these reasons, the review of the new plan warrants the attention of local officials and the public.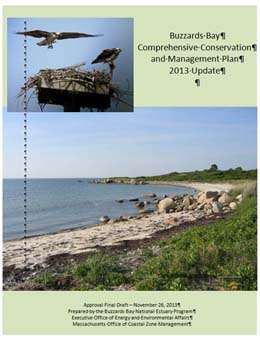 Go to our
1991 CCMP
page to see the original document.
November 26, 2013 Approval Final Draft
Below are links to the updated chapters and action plans in the November 26, 2013 Approval Draft Final that has been submitted to the Buzzards Bay National Estuary Program Steering Committee for approval. It incorporates comments we received after we distributed and posted the October 24, 2012 draft final (read the
letter sent to Buzzards Bay municipal boards
). Once the Buzzards Bay NEP's Steering Committee approves the document, the final document will be posted on this website.
Download the
Entire November 26, 2013 Approval Final Draft
(29 MB pdf; right click to download) or click on the action plan and chapter links below.
Who prepared the CCMP
Over the years, various groups and individuals have updated the chapters of the CCMP. The Buzzards Bay NEP continues to work with state and federal agency staff and guest writers revise and update Action Plan drafts.
Table Of Contents
Cover page, table of contents, and acknowledgments (pdf file)
Chapter 1 : The Buzzards Bay NEP and CCMP: Then and Now
Chapter 2 : Buzzards Bay: Its Watershed, Living Resources, and Governance
Chapter 3 : Characterization of Pollution Sources
Chapter 4: Action Plan Introduction
Action Plan 1: Managing Nitrogen-Sensitive Embayments
Action Plan 2: Protecting and Enhancing Shellfish Resources
Action Plan 3: Managing Stormwater Runoff and Promoting LID
Action Plan 4: Improving Land Use Management and Promoting Smart Growth
Action Plan 5: Managing On-Site Wastewater Disposal Systems
Action Plan 6: Managing Impacts from Boating, Marinas, and Moorings
Action Plan 7: Protecting Wetlands
Action Plan 8: Restoring Migratory Fish Passageways
Action Plan 9: Protecting Bio-Diversity and Rare and Endangered Species Habitat
Action Plan 10: Managing Water Withdrawals to Protect Wetlands, Habitat, and Public Water Supplies
Action Plan 11: Managing Invasive and Nuisance Species
Action Plan 12: Protecting Open Space
Action Plan 13: Protecting Ponds and Streams
Action Plan 14: Reducing Beach Debris, Marine Floatables, and Litter in Wetlands
Action Plan 15: Managing Coastal Watersheets and the Waterfront
Action Plan 16: Reducing Toxic Pollution
Action Plan 17: Preventing Oil Pollution
Action Plan 18: Planning for a Shifting Shoreline and Coastal Storms
Action Plan 19: Protecting Public Health at Swimming Beaches
Action Plan 20: Monitoring Management Action, Status and Trends
Action Plan 21: Enhancing Public Education and Participation

Chapter 5: Implementing the CCMP
Chapter 6: Resources for Financing the CCMP
Glossary of Terms, Acronyms, and Agency Abbreviations
Entire November 26, 2013 Approval Final Draft
(29 MB pdf; right click to download).
---
---