Enjoy Buzzards Bay
Sub-pages: Beach Information | Boating | Tides & Weather | Public Access | Recreational Lands | Transportation | Shellfishing | Fishing


Related Pages: Town by Town Info | Watershed Information


Area Web Cams
Rte 25 Approach to Bourne Bridge
Cape Cod - Bourne Rotary and Bourne Bridge
Great Harbor Woods Hole Inn Webcam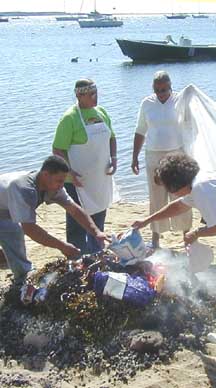 Wampanoag Indian Clam Bake
What is the point of protecting the water quality and natural resources of Buzzards Bay and its watershed if you don't go out to enjoy them? We have set up this page of links to get you information of the recreational opportunities around Buzzards Bay where you can appreciate nature and the environment.
On and in the water
Beach Information
Sailing Clubs
Nautical Charts
Boat Ramps and Launches
Today's BB Tides
Tasty Treats
Fishing Information
Shellfish Information
How's the weather?
Today's Bay and Weather Conditions
Our Storm Information Page
Public Access
Public Access
Parks, Trails, Bike Paths
Go to our
Recreational Lands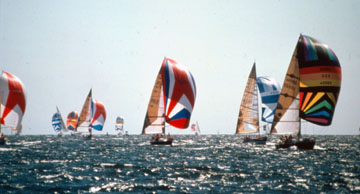 Buzzards Bay Regatta. Photo by Joe Costa.
---